❤️Meet Rowan ❤️
I had the pleasure of meeting Baby Rowan and her mom and dad just a couple of weeks ago when they came in for a Valentines mini session. I immediately fell in love with her sweet face and personality. Rowan is 7 months old and was born with CHD (Congenital Heart Disease). She has experienced a lot of adversity so far, but you would never know by looking in those big, adorable eyes or at that ever-present smile. And the strength and courage her mom and dad have is so inspiring. It's those big eyes (and the cheeks didn't hurt 😜) and that strength that has driven me to start offering Warrior Portrait Sessions. But more on that later.
I would like to take this opportunity to shine the spotlight on this beautiful baby, bring awareness to her cause, and give mom and dad an outlet to tell their story and publicly thank their supporters. You may want to grab some tissues. I don't know how it's possible to shed happy and sad tears at the same time, but it is. And some of the images may be difficult for some to view, but we (Rowan's parents and I) think it's important to help raise awareness for CHD and to help get support.
Please tell us about your daughter and her journey so far.
My daughter was diagnosed with a heart defect when I was around 23 weeks pregnant. I had a scan done at Texas Perinatal in Austin, TX that was recommended by my OB in Phoenix, AZ before we moved back to Texas because they weren't able to see all chambers of the heart. From then on we scanned every 3-4 weeks to make sure there was nothing we didn't know when she was born, but she still ended having defects that weren't caught. I didn't have the best birth experience. I knew it wouldn't be the skin to skin, delayed cord clamping, nurse her for the first time experience that I had dreamed of; but it went a lot different than I had tried to prepare myself for. Rowan was born and she didn't cry at first, there was this long pause where I looked down and she seemed to just be staring into space. When I delivered there were probably 15 different medical staff in the room and they handed her straight over to the NICU team. I heard faint little cries as they put oxygen on her and brought her near my face. They said, "Give her a kiss and say hello." I did just that, they let me put my hands under her bottom and head, and I kissed her before they whisked her away. My husband, as we had arranged beforehand, went with her. And I was suddenly alone in this room that just 5 minutes before was so full of people awaiting the arrival of my little baby, who was no longer in my belly. It was 12 hours before I got to see her again; they worked all night to try to place a PICC line unsuccessfully. Zach wheeled me up to the NICU and there was my little lady with a breathing tube, an ART line, leads and pulse ox and IV's.
I tried to be happy and in love but I was so scared of this little tiny human. The cardiologist came to us and said, "The flight for Dallas will be taking off in about an hour, which one of you would like to fly with her?" It was super confusing and I felt like he was going to follow up with a "just kidding," but he was totally serious. Less than 24 hours after she was born Rowan was flown to Dallas where she received her official diagnosis, which was Dextro-Transposition of the Great Arteries, Coarctation of the Aorta, Double Outlet Right Ventricle, a large VSD (ventricular septal defect) and Pulmonary Stenosis. She was born on a Sunday and they wanted to schedule surgery for that Friday. Unfortunately, there was an MRI done on accident (the hospital she was born at sent over the wrong patients file and nobody caught it soon enough) that found bleeding on her brain. The doctors explained that while 9 out of 10 babies delivered naturally would probably show the same bleeding, it was too risky to put her on heart-lung bypass, as you have to thin the blood for it and that could allow the bleeding to become more severe. On day 17 we knew surgery was tentatively the next morning, we were just waiting for the go ahead, and this wonderful little woman in blue scrubs came in and introduced herself. We had met her in passing previously but as you can imagine, pediatric heart surgeons are busy people and Rowan wasn't having surgery yet. She introduced herself as Camille Hancock-Friesen, she would be operating on Rowan the next morning. She explained she had already manipulated Rowan's heart via virtual reality and had a solid plan in place for what she wanted to do in the operating room. I will never forget her looking into my eyes and promising "Once she leaves this room I will treat her as if she is my own. I operate on all of my patients as if they are my own child. She is in good hands." Rowan was in OR that day for 12 hours. We got hourly calls from the OR nurse to let us know how things were going, a vague "she's doing good." All of the nurses and therapists had stressed that we shouldn't spend the day in the hospital, to get out of there and go do something distracting. I thought they were crazy. How could you suggest I leave while my child is laying on a table having her HEART operated on? We stayed in the hard, plastic chairs all day. Trying to nap, trying to support each other while our hearts were aching and racing. We finally got the call to go to the consultation room and Dr. Camille came in and the first thing she said was,
"She's doing great! Can I hug you?"
We spent a lot of time after that trying to get her off of her breathing tube, trying to come off of oxygen, trying to conquer feeds and work on taking a bottle. She was sedated and intubated for so long she had never taken any food by mouth. She had significant airway damage from having a breathing tube placed less than an hour after birth and had to have a surgery for that. In the meantime we were told her pulmonary artery was continuing to narrow. They had hoped it would grow with her after her first operation, they didn't want to go in and mess with it during that repair as it was already such a massive surgery. We were told we wouldn't be getting home to Austin before they went back in and placed an arterial conduit, which is a new pulmonary artery to bypass her native PA and relieve the pressures in her heart. We got to take her to her grandparents house, (though we were driving her back to Dallas almost every day), for about 9 days before they did a CT and found that her PA was almost completely obstructed and she needed surgery soon. That was on a Thursday, they set our surgery date for that Monday. This surgery presented a lot more issues than the first. Rowan was nearly 3 months old and knew this time around that the breathing tube was foreign, the IV's made her angry and she couldn't relax. The surgery itself was another long day, around 9 hours, as Rowan took a longer time to come off of heart lung bypass. They would reverse the blood thinners, start the process of taking her off and she would spiral. She did this 4 times. The next few days would be full of her bradying (bradycardia), nobody could come near her without her dropping her heart rate and all of her pressures and turning blue. We finally got her extubated 6 days later and the brady spells stopped. Back to working on feeds and coming off of oxygen. We finally figured out that she had a milk-protein allergy. Did I mention I had been pumping every 2 hours, around the clock, with a massive over supply? It hurt my feelings so much, but in the grand scheme of things it wasn't the WORST thing that had happened to her. We found a formula she tolerated and we were home in Austin by Thanksgiving. Nearly 4 1/2 months had passed and it felt like the outside world had left us behind, back in July, when we first walked in to Children's Medical Center Dallas. Rowan is now home and happy, g-tube fed and conquering taking food by mouth. We have been told her conduit is calcifying much sooner than they expected and we have less than a year before her next open heart surgery to replace it. She will be going to Cath Lab this week to balloon her SVC (superior vena cava) and to get a look at where the obstruction is with her conduit. It's hard to look at her smiling and laughing and know she is in heart failure. She looks okay but she's not. Her father and I will continue to work the sidelines while she takes on the battle. She is the most headstrong, feisty, loving and cheesy soul I have ever known. That I will probably ever know. I am so proud to be her mother. ❤️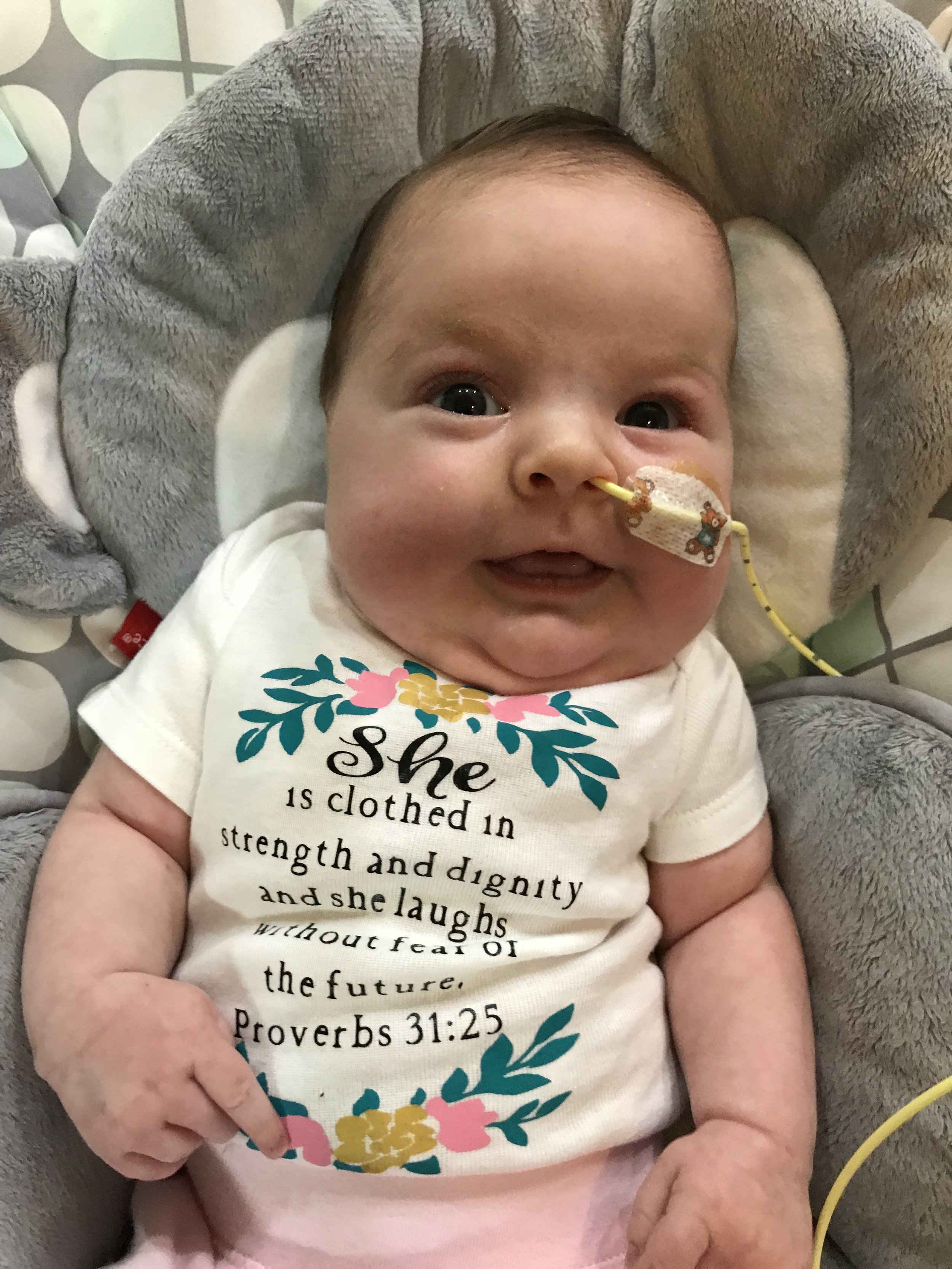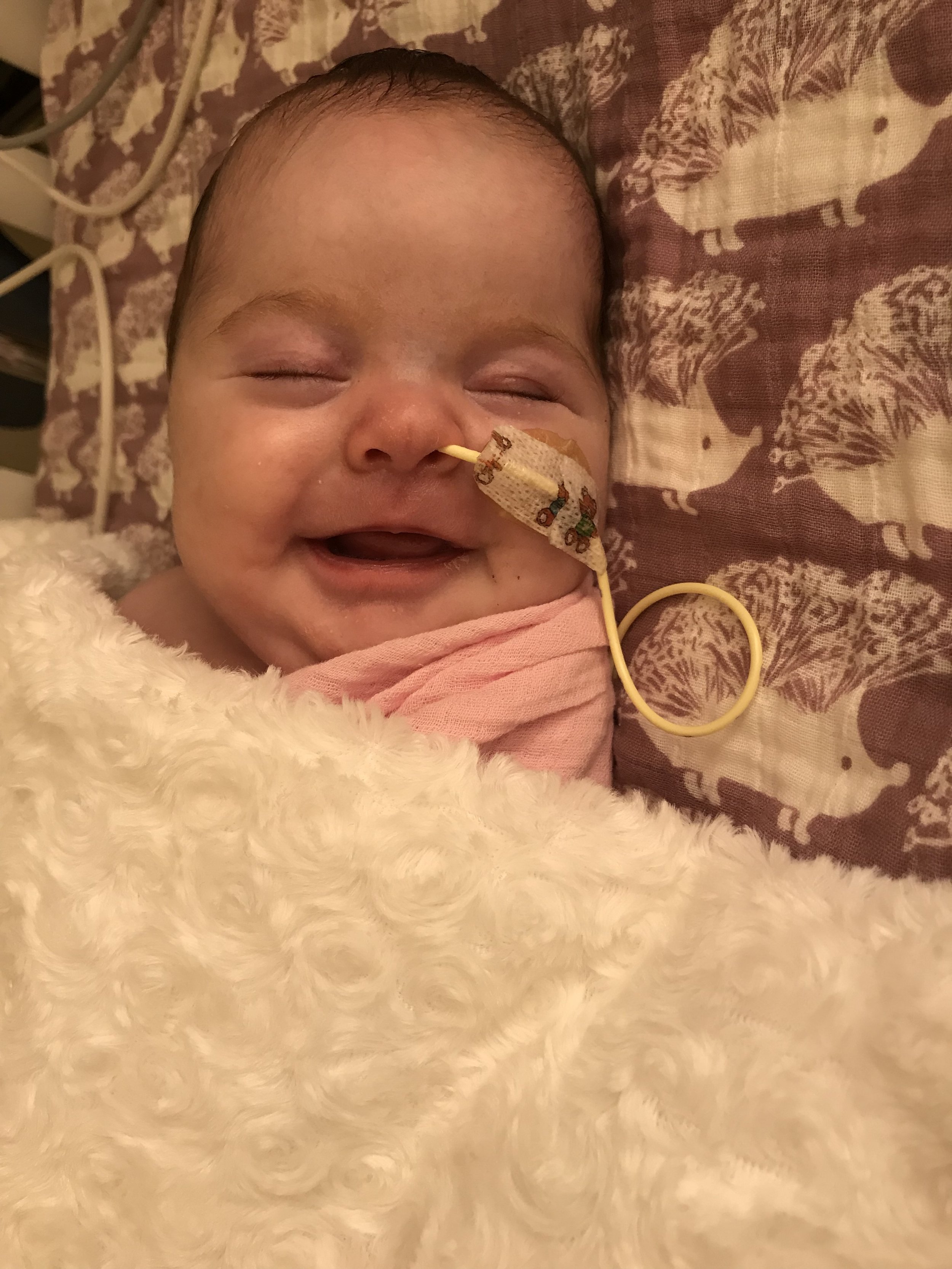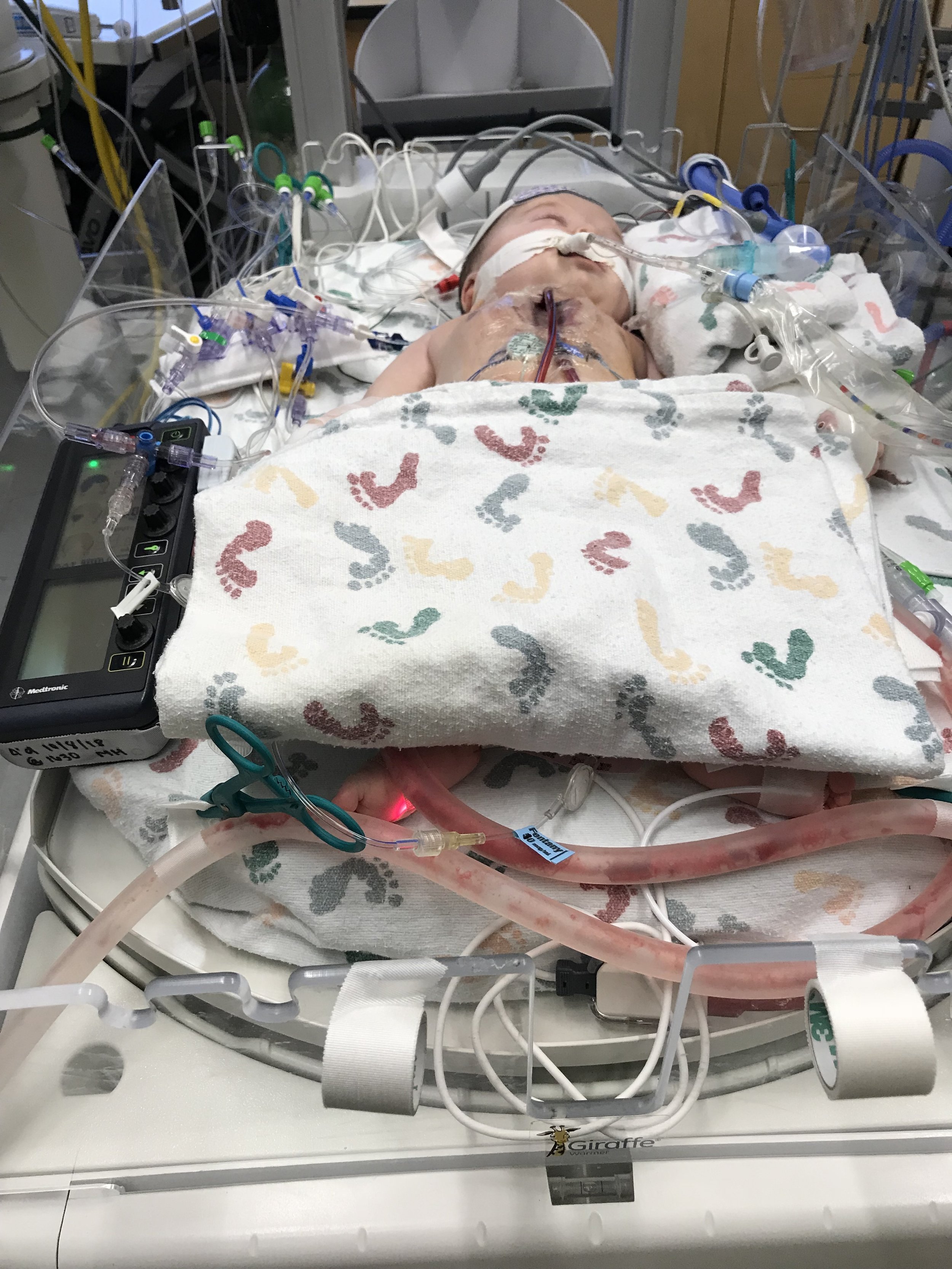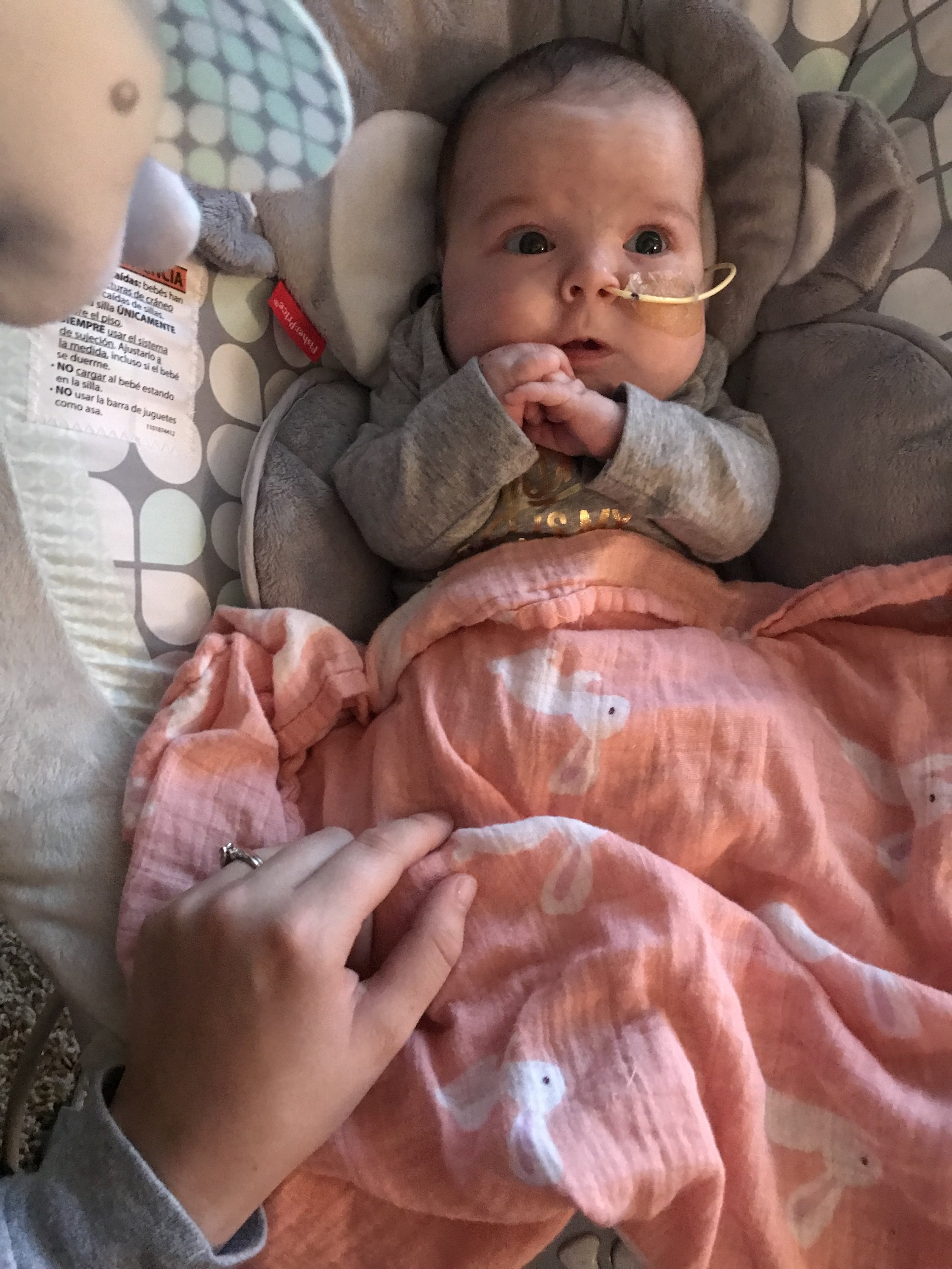 How has this affected your family?
Sometimes I feel that it hasn't. We just did what we had to do, it's done and now we're home. But it has. We are always expecting the worst but hoping for the best, always considering a second opinion when things look good just to be sure. Instead of just parents we are home health nurses, we are her caseworkers. We have honorary medical degrees we didn't ask for, an 'MD in Rowan.' We also know our strength now. Zach and I were married for 4 1/2 years before we decided to have a baby, we experienced struggles that married couples go through. This has brought out a side of Zach and I that I didn't know we had. We have leaned on each other and worked so hard to try to continue nurturing our marriage while the world that we knew crumbled around us. Every day is new and sometimes I can't help but question why this happened to us; to her. But she makes every day wonderful. Because of her I have fallen in love all over again with my husband, watching him be so strong for her when she was in the hospital when I couldn't. When I was convinced we were headed for the worst, he never had a doubt about her. Just watching him be a dad. Don't get me wrong, there are really hard days and we both grieve the first year we had planned for her in different ways, but this has brought us closer than I ever imagined. This crumbled us, but gave us the opportunity to rebuild ourselves better than before. Stronger.
What advice would you like to give to families experiencing the same or similar circumstances?
Give yourself grace. Each individual handles their emotions differently, give your significant other and family members grace as well. While I was an emotional mess, my husband seemed to just be able to roll with the punches and take on each challenge with grace. That is how he deals with things. There is no right way to feel, react or just "be". There were days I felt so guilty for wanting to run out of the hospital, leave it behind and go do something fun. I just wanted to be reminded of what it felt like to feel GOOD again. To feel safe and okay and SURE of myself. If you know before your baby is born that they have a defect, ask ALL THE QUESTIONS. There is no stupid question, this is not your profession and you need to know these things. Write it all down. Find a Facebook group for whatever it is that your child is facing. I wish I would've done that so I could've talked to other moms and not felt so alone. Prepare for everything, make tentative plans but know that things don't always go the way you're expecting or have been told. Most of all, remember to do something each day that makes you happy. It sounds selfish to say that while your child is in the hospital, but it's important to take care of yourself. It's easy to completely submerge yourself in hospital life and forget the world outside. Hospital psychosis is a real thing. Please reach out when you need help; yes you are in the hospital for your child but there are resources for you too!! Utilize them!
❤️Rowan and her mom and dad would like to thank the following people.❤️
The first thank you is to Rowan's surgeon, Dr. Camille. She is the most phenomenal woman I have ever met. If you ran into her at the grocery store you'd never know she fixes little tiny hearts for a living. Her sincerity, humbleness and love for what she does is incredible, we cannot thank her enough for what she has done for us.
Thank you to the nursing staff, specifically, Hannah, Kelsey, Haley and AJ. Thank you all for not only taking care of my daughter in her most critical states, but for listening to me cry, complain, celebrate and go through all of the emotions of this process. Thank you for bonding with my daughter and giving me the peace that when I left her in your care, I could walk out of the hospital and breathe easy. She was 100% safe with you and you would advocate for her just like I would. Thank you for giving me the right questions to ask and the knowledge to push back when I needed to. We sincerely love you guys and I will make sure Rowan knows how special you all are.
Analisa Trott was our caseworker but seriously so much more, she will take all of the stressors outside of having your child in the hospital on. Countless times she listened to me just pour my heart out, always lending an ear and responding constructively. She was literally always a phone call away if she hadn't already popped in that day to see how things were going. That woman can move MOUNTAINS and she does it all with a smile on her face. I to this day call her when I'm having a problem, even if it's just to talk it out, and she always answers. She is wonderful. Thank you SO MUCH Analisa!!
To Katy, thank you for making hospital life bearable. I didn't expect to meet one of my best friends during the worst time of our lives. I am so appreciative of your sense of humor, willingness to listen and our ability to relate as mothers of heart babies. Forever thankful for all of the times we sat near the windows venting, drinking mediocre hospital coffee and trying to come up with a plan to bust those babies out of there. We love you, Conor, Cory & Daphne.
Finally, thank you to the wonderful doctors (Dr. Ricky Markus, you are the best!!), therapists and social workers that we worked with. This was such an intimidating world to be thrown into and to have all of the resources we did was amazing. The team they have at Children's Medical Center Dallas is truly remarkable and we will ALWAYS take Rowan there. Their care cannot be beat.
❤️Mended Little Hearts ❤️ <- Click here make a donation to an amazing organization that provides support for parents of CHD babies.
"The meaning of life is to find your gift. The purpose of life is to give it away." - Pablo Picasso
If you know a family that has a child under one year old with a life-altering illness, birth defect, or injury, lives within 30 miles of downtown Austin, TX, and would treasure professional portraits of their precious baby and family, please nominate them by filling out this form.